Pause the Prompt Payment Clock
Through automation and pre defined business rules - now is the time to adopt a true e-invoicing solution that allows you to adhere to payment terms.
The Prompt Payment Code is getting an update
As of 1st April 2022, Main Contractors will need to adhere to new prompt payment requirements in order to tender for Government contracts.
Whilst the Prompt Payment Code is considered voluntary, more construction firms recognise the need to support the complete construction supply chain and provide support where they can.
With the clock for payment terms starting when a supplier sends an invoice, Construction companies are looking at a technological solution that can streamline the process for them, thus helping reduce manual intervention and increasing automation and ultimately paying suppliers on time.
If you are a Prompt Payment signatory, considering joining or just want a better process and system in place, read our blogs or use our intuitive savings calculator to find out how much you could save by trading up to Tradex.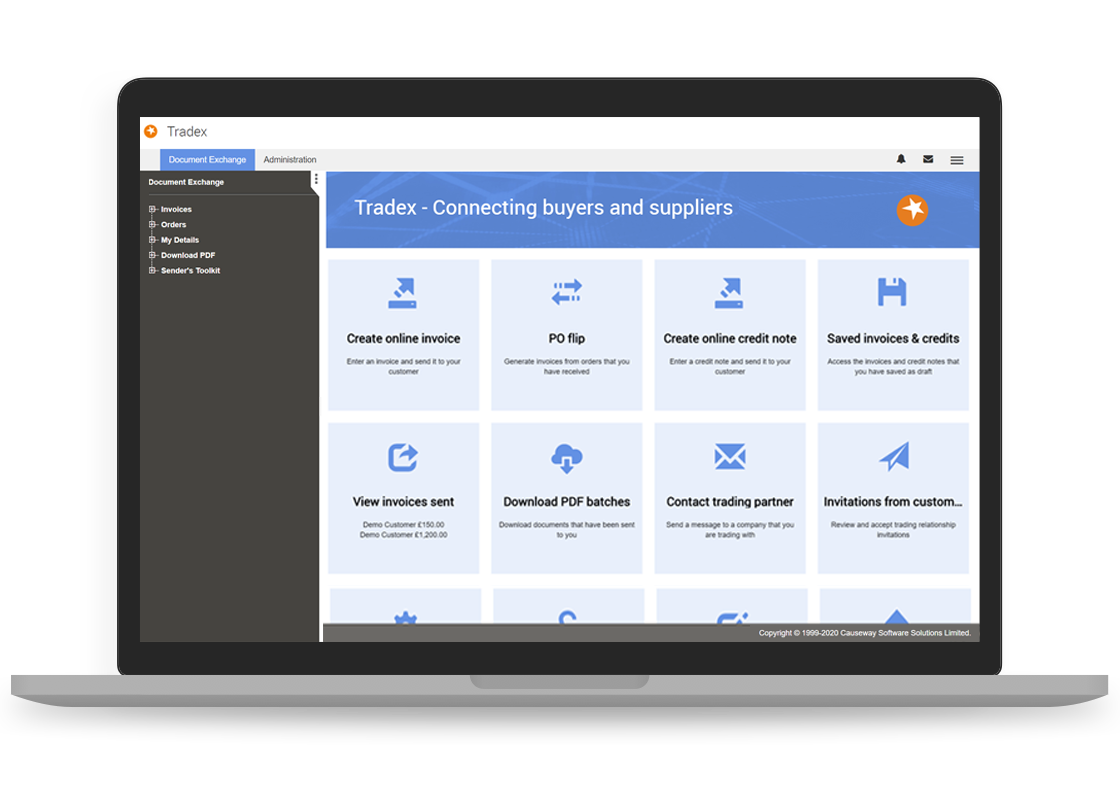 Achieve true e-invoicing with Tradex
Tradex supports business to adhere to the prompt payment code through automation. Reducing manual intervention and missed payment deadlines.
Tradex is a complete e-invoicing solution designed and built for construction finance, delivering documents directly to your ERP if an invoice meets your predetermined requirements. It also enables, invoice approval workflows, self-service invoice status and reconciliation capabilities and more.
What our customers are saying
See how Causeway Tradex is helping to transform construction finance and increase accounts payable team productivity.
It's fair to say that Causeway Tradex has been instrumental in substantially improving our PPC Compliance. Now, we pay more than 95% of invoices within 60 days of receipt – it was a fraction of that 5 years ago.
Peter Rose, Shared Service Centre Director, Galliford Try
Today, 94% of all invoices received into Kier come through the Tradex portal, our straight through processing has increased many fold and invoice queries have dropped.
Dan Foley, Finance Shared Services Director, Kier Group
e-Invoicing is faster, easier, more precise and saves both Balfour Beatty and our suppliers administrative hassle [by] standardising the format invoices are received in, meaning that they can be processed more quickly and with fewer errors and delays, rendering redundant the time and costs associated with other ways of invoicing, ensuring prompt payment of our invoices.
Leo Quinn, CEO, Balfour Beatty
Tradex and the e-invoicing platform have allowed us to really streamline our AP processes. It has allowed us to get visibility and control on everything that is coming into our business from an invoicing point of view and reduce the risks of fraudulent practice and to make sure our supply chain get visibility of their status through the status module that Tradex provides.
Keith Aldrich, Supply Chain Director, Eurovia
Electronic invoicing is far quicker, which means we can manage trends in terms of where things are failing and we can take that small percentage and start implementing projects to improve
Sally Giles, Procure To Pay Manager, Aggregate Industries